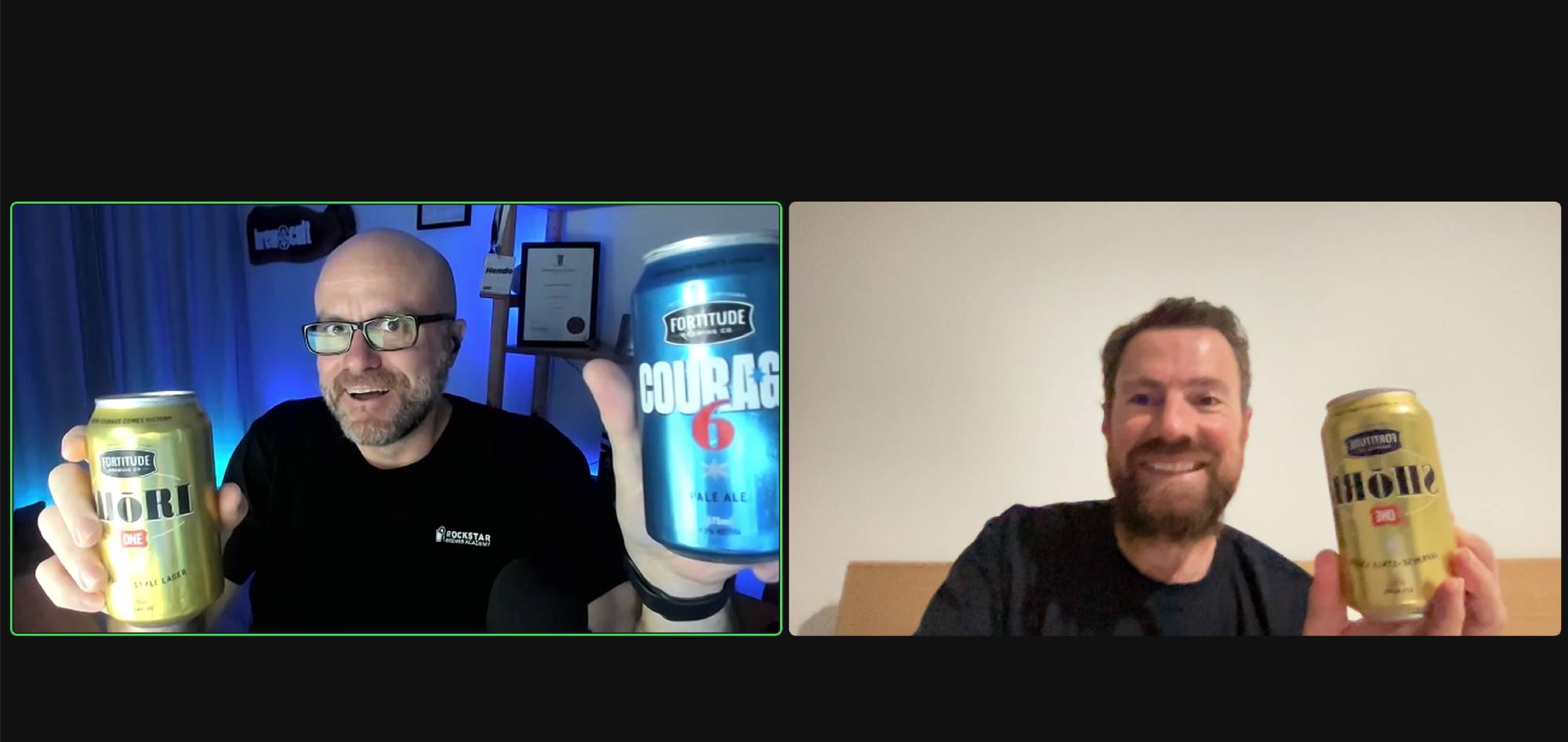 Summary:
Dan and Steve discussed a variety of topics, including their love of beer, their recent trip to Melbourne, and their fitness routines. They also delved into the financial results and business strategy of Gage Roads, analyzing the company's growth and loss in profit. Additionally, they engaged in lighthearted conversations about the weather, coffee preferences, and upcoming beer festivals.
Throughout the meeting, Dan and Steve shared stories and jokes, expressing their excitement for various events and products. They also discussed potential sponsorships and encouraged listeners to vote for their podcast in the Australian Podcast Awards. Despite the casual nature of their conversations, they provided insightful analysis of Gage Roads' financial results and expressed their desire for Fortitude to succeed as a brand.
Overall, the meeting was a mix of casual conversation and business analysis, with Dan and Steve showcasing their shared passion for beer and their commitment to their podcast. They also emphasized the importance of taking time to relax and connect with loved ones, highlighting the simple pleasures in life such as fishing trips.
Chapters & Topics:
Beer Tasting and Storytelling
Dan and Steve excitedly discuss the beers they have received and plan to drink on the show, with Steve suggesting they drink them in the order they were received. They then taste the Revel Brewing Company Pacific Haze and share a story about a previous beer they had tried, which leads to a discussion about the color and taste of the Pacific Haze.
Dan's Crab Pot Adventure and Show Notes Update
Dan recounts his experience with a forgotten crab pot, which he eventually retrieved to find it empty. He and Steve also touch on the lack of show notes for the week's episode, with Dan admitting to having some handover react to share. They briefly discuss some of the restaurants Dan visited in Melbourne over the weekend.
Exploring Melbourne
Dan and Steve share their love for Melbourne and discuss their favorite parts of the city, including Brunswick and Fitzroy. They also talk about their experience finding a restaurant and exploring the city on foot.
Fitness and Formula One Recap
Dan and Steve talk about their efforts to establish a fitness routine, including running and gym visits. They then discuss their incorrect predictions for the recent Formula One race, acknowledging that they should have predicted Ferrari's success on the fast circuit. The conversation ends with a mention of their desire to find new things to bet on.
Gage Roads' Financial Results and Business Strategy Discussion
Dan and Steve analyze Gage Roads' financial results and discuss the factors that may have contributed to the loss in profit. They highlight the company's efficient operations and growth in the hospitality division, while speculating that the wholesale business may be the cause of the loss. They also mention the company's decision to not acquire Stomping Ground and their early preparation for a non-profitable year.
Gage Roads' financial results
Coffee and Weather
Dan and Steve have a casual conversation about the weather and their coffee preferences. Dan mentions that he sells coffee and prefers cold weather for sales. Steve talks about buying Aldi Brazil beans and Dan offers to send him some sponsored coffee to try. They also briefly discuss the type of bags for the coffee.
Beer Festival Season and Laga Psa
Dan and Steve chat about the Crafted Festival on the Gold Coast and the diverse music lineup, as well as the Queensland Amateur Brewing Competition. They also discuss the upcoming Laga Psa beer festival and the impressive lineup of breweries and beers that will be featured.
Crafted Festival on the Gold Coast
Beer Tasting and Brewery Discussion
Dan and Steve taste and discuss different beers, expressing their enjoyment of the Laga and Fortitude beers. They also discuss the importance of branding and express their desire for Fortitude to succeed. Additionally, they briefly touch on the use of shrink wrap machines on canning lines.
Fortitude Brewing Company's beers
Beer and Banter
Steve and Dan share banter about their personal preferences and interests before discussing gifts they have received and upcoming beer releases. They also briefly discuss a controversial comment made on Facebook.
Thirsty Merchants' tank tops
Discussion on Trade Beer and Other Products
Steve and Dan talk about the different types of Trade beer, and Steve mentions that Trade also sells deodorant, underwear, and beauty supplies. They wonder who owns Trade and discuss the similarities between Trade beer and other brands. They also joke about the different types of beauty supplies offered by Trade.
Sponsorship and Podcast Awards
Dan and Steve discuss potential sponsorships from Kriti and Trade, and encourage listeners to vote for their podcast in the Australian Podcast Awards. They also briefly mention their other podcast, YONSOLO.
Discussion on Felon's Stout Joke and Beer World Updates
Dan and Steve discuss the Felon's Stout joke and its origin, as well as their disappointment in Felon's lack of dark beers. They briefly touch on updates in the beer world and answer a listener's question about Courage Six. The conversation is light-hearted and includes some banter between the two hosts.
The origin of the Felon's stout joke
Fishing and Beer Talk
Steve and Dan bond over their shared interest in fishing and beer, and reminisce about growing up on the Gold Coast where they could fish whenever they wanted. They plan a fishing trip together in the next couple of weeks, and discuss the share price and potential turnaround of a beer company.
Action Items:
Dan Norris will investigate the possibility of sponsorship from Kriti.
Try the Hard Seltzer from Mof Beach Brewing Company.
Attend Crafted Festival on the Gold Coast.
Try the Courage Six beer from Fortitude Brewing Company.
Follow up with Kev from Thirsty Merchants regarding the tank tops.
All members of the group will vote for the Podcast Awards.
Steve 'Hendo' Henderson will research the origin of the Felon's stout joke.
Dan Norris will check the share price of Mighty Craft.
Steve 'Hendo' Henderson will look into the Facebook ads from Trade.
Key Questions:
Is it possible to get a sponsorship from Kriti?
What are the highlights of Crafted Festival?
What are the details of the tank tops from Thirsty Merchants?
Could Better Beer sue Trade if Brooklyn sued Better Beer and lost?
What is the origin of the Felon's stout joke?
Intro
Dan's melbourne trip
Our terrible Monza F1 predictions
Docket
Dan's Melbourne Trip
Gage Roads Results – https://brewsnews.com.au/good-drinks-results-highlight-tough-market/
Crafted this weekend – https://www.craftedfestival.com.au/ – beer line up https://www.facebook.com/groups/113538955654990/posts/2076985489310317/
Hendo Reacts
12 questions