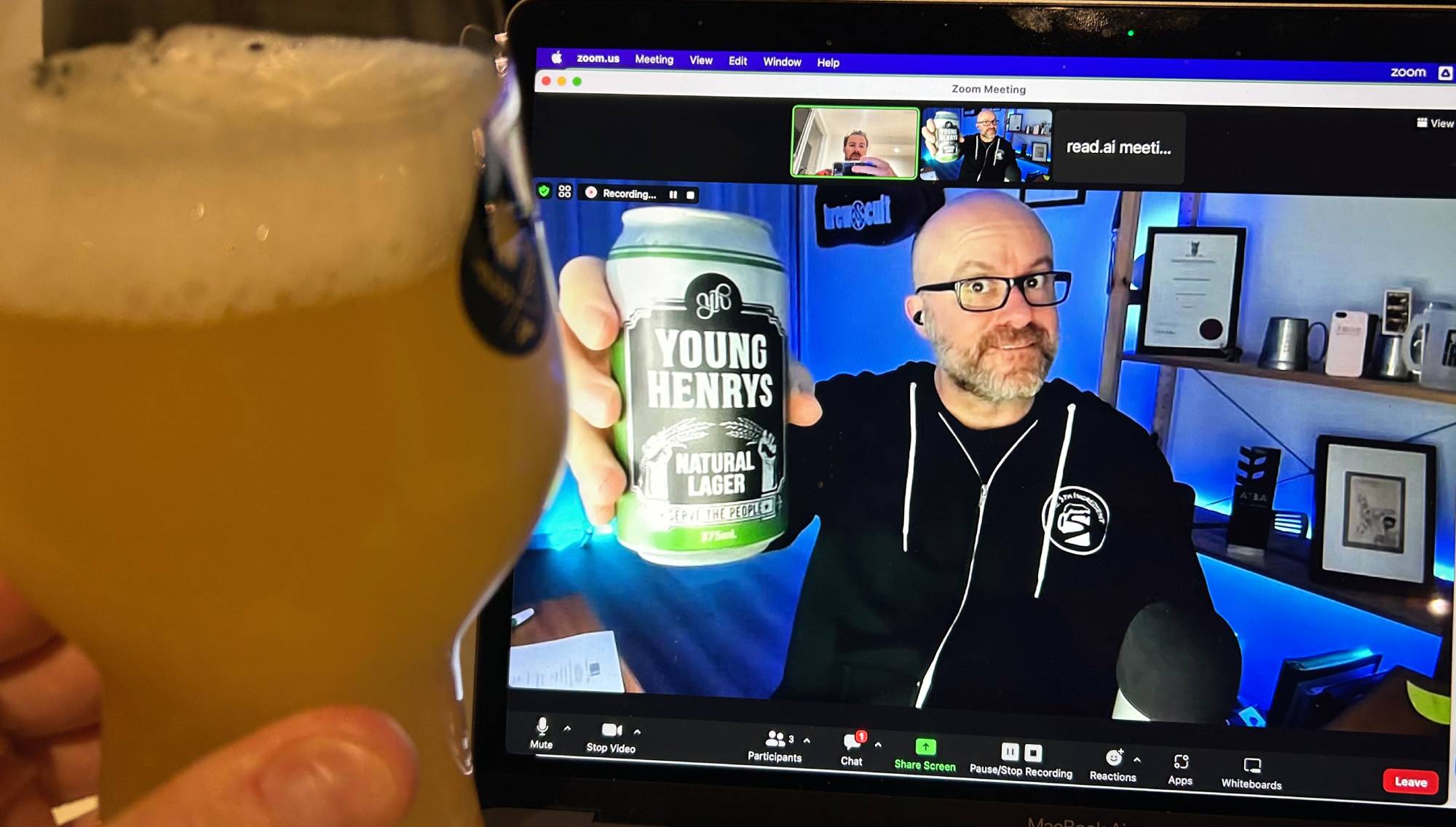 Docket
Coffee machine update
No news is good news
Peer nominations for the Indies – https://brewsnews.com.au/peer-nominations-open-for-beer-awards/
AIBAs wins corporate event of the year – https://www.beerandbrewer.com/2022-aiba-wins-corporate-event-of-the-year/
Hendo Reacts
12 questions
https://www.facebook.com/groups/bossandthebrewer/posts/1030686901648357/
Full summary
Summary:
The meeting began with a lighthearted catch-up conversation between Steve and Dan about recent events and their shared passion for beer. They discussed the challenges of running a brewery in a tourist town, the importance of loyalty and retention in the brewing industry, and the camaraderie and community that exists within the industry. They also talked about Dan's coffee machine, Steve's upcoming travel plans, and Steve's recent scalp treatment.
The conversation then shifted to the significance of awards in the beer industry and how they recognize outstanding contributions and achievements. They provided details on the peer awards given out by the Indies and encouraged others to nominate deserving individuals or businesses. They also discussed the Abra Awards and how they have improved their ceremony by displaying gold medals on screens. Overall, they emphasized the importance of recognizing excellence in the industry and how awards can motivate and inspire others to strive for greatness.
Dan and Steve also discussed their different exercise preferences, with Dan sharing his recent circuit training and running routine, and Steve discussing his love for bike riding and desire to find a more social form of exercise. They also talked about the challenges of exercising while traveling and brainstormed alternative forms of exercise, such as group fitness classes.
The meeting ended with a humorous and light-hearted conversation between Dan and Steve covering a range of topics, including Stephen Keating's upcoming Wagyu night, Hendo's upcoming trip to South Africa, and the sensitive topic of sounding. Despite the sensitive nature of the topic, the conversation remained light-hearted and humorous, with both speakers joking and bantering throughout.
Chapters & Topics:
Catching up and discussing beer and brewery business
Coffee Machine Update and Maintenance:
Espresso machine pressure gauge
Travel stories and airline experiences:
Traveling experiences
Steve's Scalp Treatment
Awards and Nominations Discussion
Exercise and Fitness:
Finding a suitable form of exercise
Discussion on TV wall mounting
Steve's Nephew Rides His Motorcycle:
Home brewing and violin music
Discussion on using bugs to supplement barley in beer production
Discussion about Stephen Keating's Wagyu night and Hendo's upcoming trip to South Africa
Discussion on various topics including island cartoon, sunscreen, and sounding.:
Sounding
Action Items:
Remunerate brewers based on retention to ensure continuity and loyalty.
Conduct maintenance on the coffee machine
Send H free leads from the podcast.
Discuss the possibility of creating a cricket beer with Phil and Dan
Avoid the practice of sounding.
Key Questions:
How is the expansion of the brewery in Alice Springs going?
What other form of exercise can be done that is social and suitable?
Is the motorcycle in neutral?
Is there any advice for tackling the functionality of a large brew house?
Did you share sounds?